I am truly blessed and honored to accept these awards. I absolutely love getting them and having people recognize my hard work and efforts, really brightens my day. Thank you so much! I am extremely grateful to everyone who has passed down an award to me.
I know that most awards come with certain guidelines and rules. To be honest, I just don't have time to write up a new award post each time I get a new one. You can find some honest and true facts about me:
•
All About Me
•
7 Things You Didn't Know About Me
•
Who's My Favorite....

Thanks to Managing Mommyhood




Thanks toThat's So Cuegly
and
Sassy Sites!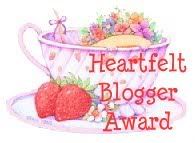 Thanks to Puget Sound Prudence




Thanks to A Little Knick Knack